Want to learn how to make ringtones for your iPhone 5 or 5S using iTunes? The iPhone only includes general musical melodies and not popular hit songs, but nothing like these Box Office Movie Ringtones or other popular songs. This set of instructions will help you take part of an MP3 song to make a custom ringtone on your smartphone. You'll only need a few things in order to do this, and we'll walk you through the process here.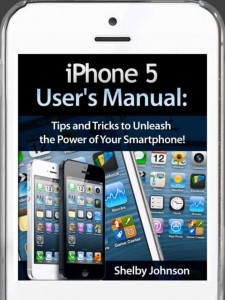 Shelby Johnson is a bestselling author of print and digital media, including the iPhone 5 User's Manual pictured at left. The guide contains helpful set up and how to tips and tricks for new and slightly more experienced iPhone users. Learn to get more from your smartphone as you use it to perform everyday tasks including productivity, entertainment and connecting with friends, family and colleagues.
The iPhone 5 and 5S User's Guide is available for a low price in both print and digital versions.
Get it here: iPhone 5 & 5S User's Manual by Shelby Johnson
Create Ringtones for iPhone 5 & 5S
You should be able to make your own musical ringtone with any song you've purchased or downloaded. To create a custom MP3 ringtone for your iPhone 5 or 5S you'll need the following items:
An iPhone
A computer with iTunes on it
A song that you want to use part of for your ringtone
Here are the instructions on exactly what you need to do to create your ringtone. Follow closely as there are several things you'll need to do to get this to work properly.
First up, open iTunes on your computer and right-click on the MP3 song you want to use for a ringtone. Choose the "Get Info" option. Go to the "Options" tab on the pop-up box that comes up.
On here, you need to adjust the start and stop time for your MP3 so that you are using 30 seconds or less of the song as your ringtone. Once you've done so, click on "OK" to close the pop-up box.
Next, you'll need to go to your Menu. Choose iTunes, then "Preferences" and "General."
Click on the "Import Settings" button. Set the "Import Using" to "AAC encoder" and click OK to close this pop up, then OK to close the other pop-up.
Right-click on your MP3 song and choose the "Create AAC Version" option. A new 30-second song will be created underneath the longer version.
Drag the 30-second song to your desktop to copy it. Right-click on the 30-second song in iTunes and choose to delete it. On the first pop-up box click "Delete" and then click "Move to Trash."
Go to the file you moved to your desktop. Rename the file extension from ".m4a" to "m4r".  Now double click that file or drag it onto your iTunes to add it. It will be added to your "Tones" or ringtone folder.
You can sync your iPhone to your iTunes library by plugging it in and your ringtone should be added. Once it is, go to your iPhone and choose your new ringtone in your Sounds settings.
Hopefully this set of instructions was helpful for you in creating a ringtone on your iPhone mobile smartphone. The how-to video below contains a detailed look at how to do this step-by-step.
You can find more great tips and tricks for your iPhone 5 or 5S in the Shelby Johnson User Guide Book here!
How to Make Ringtones for iPhone 5 & 5S
Tech TiPS, TRICKS & NEWS!
Receive important and helpful updates from our site. Your email address will never be shared