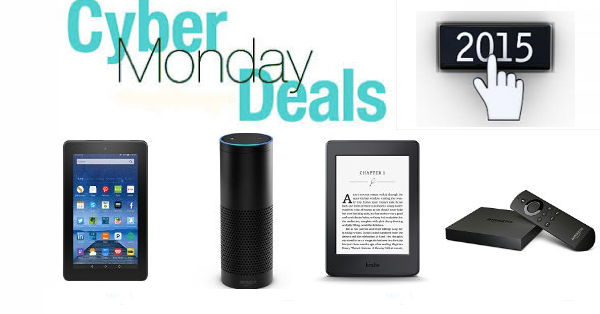 With the arrive of Cyber Monday 2015, comes everyone's favorite online shopping day of the holiday season. Cyber Monday brings with it a variety of sales deals on technology devices and gadgets that consumers may want to consider. Among them are smartphones, tablets, laptops, streaming media devices and other techie items. We've broken down the top deals from several locations for the ongoing Cyber sales.
Amazon Cyber Monday Deals
Kindle Paperwhite for $99 (regularly $119)
Fire 7-inch tablet for $34.99 (regularly $50)
Amazon Echo for $149 (normally $179)
Amazon fire TV for $75 (normally $100)
Amazon Cloud Drive – one year Unlimited storage for $5 (normally $60)
Motorola Moto 360 Smartwatch for $40 off (originally $250)
Sony SmartBand 2 for $35 off (normally $130)
Amazon will also offer time-limited or supply-limited Lightning Deals so keep an eye on the deals page for the latest.
Walmart Cyber Monday Deals
Apple iPad Mini 2 for $199 – a savings of $70
Toshiba 14-inch Satellite laptop w/Windows 10 for $179 ($100 off)
Microsoft Surface Pro 3 tablet for $599
65-inch LG 4K TV for $799
48-inch Samsung 4K TV for $598
Walmart also offers free shipping on many orders totaling $50 or more, and also has "ship to store" options for items to be sent to customers' local stores of choice.
Best Buy Cyber Monday Deals
iPhone 6 starting at $1 w/activation & 2-yr contract
iPhone 6 Plus starting at $99 w/activation & 2-yr contract
iPad Air up to $50 off select models priced $399.99 to $449.99
iTunes Gift Cards – Buy One, Get One 20% off
Keep in mind that Cyber Monday has actually become "Cyber Week" for many retailers including the ones above, so deals will span more than just Monday. Keep an eye for deals to change as the week carries on and these retailers look to get more competitive in the holiday shopping season!
What are the best Cyber Monday deals you've seen so far? Let us know below if you've seen any great tech items on sale!
Cyber Monday 2015 Top Tech Deals
Tech TiPS, TRICKS & NEWS!
Receive important and helpful updates from our site. Your email address will never be shared