The Amazon Prime Manual is now available for sale for a low price. This latest guide book helps those who have the Amazon Prime membership or are considering signing up for the annual membership. The Amazon Prime User's Manual is authored by Shelby Johnson in conjunction with Tech Media Source, and will help you get more from your membership. Read on for additional details, or click the book cover here to take a look at this helpful new resource.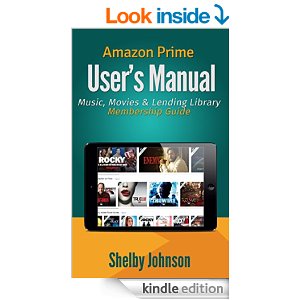 As a Prime Member you can use this guide book to learn all about Prime. So what exactly can you expect from our latest Amazon Prime guide? It features a look at all of the key benefits of the Prime membership, such as the movies, music, books and latest shipping benefits. Inside this guide, you'll learn the eBook aspects of the membership such as how to borrow free books, how to use Kindle Fire to obtain editor's choice books each month, and more. You'll learn how to use Amazon Instant Video on your device whether it's a computer or mobile device.
You'll also learn about the newest aspect of Prime – the Prime Music feature which gives you access to thousands of free songs, albums and playlists you can stream or download. Whether you prefer to listen to music online via a PC or Mac computer, or on the go with a mobile device, this guide will help you know your way around the music interface!
In addition to all that, there's also more information about the benefits of the Prime shipping which help you save on all the items you purchase at Amazon. Those who are frequent shoppers on the site know that this is a huge savings you realize each year alone, so all of the other aspects of Prime are just great bonuses! Pick up the guide now at its low price and begin to enjoy your Prime Membership even more!
Purchase Amazon Prime User's Manual at Amazon.com here!
About the Authors: The latest guide was written by Shelby Johnson and her team of researchers and writers from Tech Media Source. We stand by this as one of the better, more comprehensive guides available for anyone who currently has a Prime membership or is looking to get one in the future!
Amazon Prime User's Manual