Amazon released its new Kindle Fire HDX on October 18, 2013. This tablet is now Amazon's top-of-the-line tablet, and the Kindle Fire HD replaces last year's basic Kindle Fire. Check out the Kindle Fire HDX review video below to see this new tablet in action.
The Kindle Fire HDX 7-inch model is a powerhouse in performance. It has a 2.2 quad-core Snapdragon 800 processor with 2GB of RAM and a 400-MHz Adreno 320 graphics chip, and it is great with full HD videos as well as games. It boasts a 1920×1200 323 PPI display with perfect color matching. Weighing just 10.7 ounces, and with dimensions of 7.3 x 5 x 0.35 inches, this tablet is also great for reading eBooks (which, believe it or not, some people actually still do with their Kindle Fire HDXs).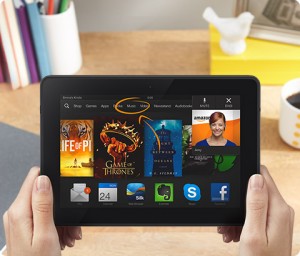 The 16 GB Kindle Fire HDX starts at $229 with special offers; the 32 GB is $269, and the 64 GB is $309 – all three of these tablets are WiFi only. If you want to you can also buy WiFi plus 4G LTE AT&T or Verizon for $329, $369, and $409 depending on storage capacity.
The 7-inch KFHDX is surprisingly angular, which has been a point of contention for some users, while others have appreciated the less plain design since tablets are basically flat and thin. It has a power button and a volume button on either side of the back in landscape mode, and it appears as if it is configured to be used in landscape mode much of the time (this is a bit of an issue for those users who like to read their books in portrait mode). There are Dual Dolby speakers, and it has a microUSB port on one end and a headphone port on the other end.
Amazon created Fire 3.0 "Mojito" for the Kindle Fire HDX, and it has some exciting new options. When you first turn on your KFHDX, you will see the recognizable carousel view. However, a swipe up displays a grid view, which many users prefer since it is more like other tablets and smartphones they use on a daily basis.
Another awesome feature is that Quick Switch allows you to switch from within apps or books without having to navigate back through the home page to switch. Simply swipe from the right edge toward the left, and a little sidebar opens with options. While X-ray has long been available for books and more recently for movies, Amazon has expanded its capabilities to include music as well. The X-ray feature will scroll the lyrics to an X-ray enabled song on the right of the page. The line the singer is singing is bolded as the words scroll past.
The most exciting new feature is the Mayday button! Where else, but Amazon would offer totally free technical support 24 hours a day 365 days a year? (hello Christmas Day tech setup help). This feature is amazing. You simply press a button, and you connect to a live tech support. You can see the person helping you on the screen, but they cannot see you. However, they can see your screen, and if they really need to, they can take full control of your tablet to fix the issue. Most Mayday calls are answered within 15 seconds, which is pretty amazing.
The Kindle Fire HDX has Miracast capabilities, which allows you to mirror your KFHDX screen onto your HDTV. You will need to use a Miracast-capable device, or purchase an adapter. This is great for watching movies and sharing pictures straight to your big screen. It also replaces the HDMI port that the 2012 Kindle Fire HD had to connect via the wire to your TV.

Coming in November, a Fire 3.1 update is coming, which will allow for Second Screen.  Second Screen allows users to "fling" content to their TV screen (if they have a Samsung TV or Playstation 3/PS4) and continue using the Kindle Fire HDX tablet for other things like checking email, reading, or surfing the web. This sounds hugely convenient, but of course not everybody will have a Playstation 3 or PS4 or a Samsung TV, but Amazon said it is working with other manufacturers to bring the technology to a wider variety of devices.
Other exciting features coming with the November Fire 3. 1 update are Cloud Collections and Goodreads. If you had a Kindle eReader, you will know what the Collections are, and no doubt, you will be thrilled to see that they are coming. This feature allows you to group your books into different collections, which helps organize when you have 1000s of titles. Of course, now that it will be on the Kindle Fire HDX, you will likely be able to create music and video Collections as well. Meanwhile, Goodreads is a book review website that readers post their opinions about the books they read, and it will be a great addition to this tablet from Amazon.
Finally, for families with children, the Kindle Fire HDX remains the top in parental controls. The Kindle FreeTime app allows you to set limits for total screen time, reading, apps, and videos. It also allows you to control exactly what content is available to your child(ren) depending on what you have added to the child's profile. This feature is easy to use, and an excellent way to share this tablet among family members without having to worry about content or unauthorized purchases.
If you subscribe to Kindle FreeTime Unlimited ($2.99 for a single child and $6.99 for a family), you will have access to 1000s of books, 100s of videos and apps without having to pay per download. These are available in Kindle FreeTime if you have subscribed.
In all, a lot of reviewers seem to feel that the Kindle Fire HDX is a fancy way to purchase Amazon content, and yes, you can easily purchase content from Amazon using the tablet. However, it has many other capabilities that you would look for in a tablet. It's screen is beautiful, and the features are abundant. This tablet from Amazon is real and usable, and great for novices and others who enjoy the Amazon ecosystem.
Kindle Fire HDX Review