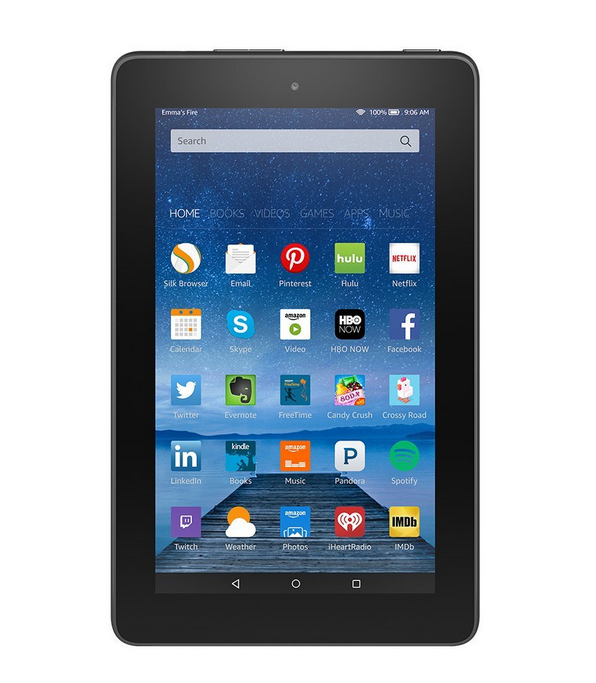 On Thursday, seven new gadgets were revealed on the Amazon website including their brand new Fire tablet as well as two larger tablets, a new Fire TV Stick and a cool new Fire TV set top box. Of particular interest will be the facts that the tablet called simply "Fire" will sell for less than $50 before tax and/or shipping, and that the new Fire TV device integrates Amazon's Alexa voice interactivity built into the remote. In addition, Amazon is releasing several larger tablets as well for customers this holiday season.
The new Fire TV set top box will sell for $99 and is available for pre-order now. It's set to arrive to the first wave of customers on Oct. 5th. The new device features the ability to streak in 4K video, the highest resolution currently available for hi-definition televisions. Additionally, the voice remote includes Alexa technology which is featured in Amazon's Echo voice interactive device. Alexa will allow speaking to the voice remote to request what you want to watch, or to bring up information such as sports scores, weather reports or other features as they are updated. Amazon is also releasing a new Fire TV Stick for $39, set for an Oct. 22 release date. An Alexa voice remote version sells for $49.99. Those who want more of a gaming experience can pick up a Fire TV set top box "gaming edition" for $139.99, which includes a controller to go with it.
The new Fire tablet was revealed via media sources several weeks ago and is now available for pre-order on the Amazon website. It will feature a 7-inch display and 1.3 GHz quad-core processor as well as rear and front-facing cameras. The device includes 8GB of on board internal storage and the ability to add a microSD card for up to 128GB more storage. The tablet includes an updated user interface with Fire OS 5 operating system and will allow for up to 7 hours of use for a variety of functions before needing a charge.
Amazon doesn't stop there with the tablets, as they also brought out a new Fire kids edition for $99, a Fire HD8 for $149.99 and a FireHD10 for $229.99. The latter two of these devices feature 8 and 10-inch displays respectively. All of the new tablets are available for pre-order and ships on Sept. 30 as of this report.
Technology enthusiasts are you excited for any of the new Amazon devices announced today? Will you be pre-ordering? Let us know your thoughts below!
Amazon unveils $49 Fire tablet, Fire TV device with voice remote
Tech TiPS, TRICKS & NEWS!
Receive important and helpful updates from our site. Your email address will never be shared