With the holidays right around the corner comes major sales on appliances, electronics, video games and of course tech gadgets! We've rounded up the top items to consider giving as gifts this coming holiday season, so when you see those holiday sales deals leaked online or in stores you can pick out the perfect gadgets for the people on your holiday wish list!
Amazon Fire TV (or Stick) with Voice Remote
In 2015, Amazon announced updated Fire TV set top box and stick devices. Both now include integration with Alexa, which is Amazon's voice interactive system, similar to Siri on the iPhones and Apple devices. With Alexa, you can now search for media to watch or listen to, get weather reports, sports scores and much more. This is a great device for Amazon loyalists with plenty of content stored in their library who also want to enjoy other streaming media from Hulu, Netflix, WatchESPN and many more apps.
Where to Buy: Amazon.com
Apple iPhone 6s and 6s Plus
The new Apple iPhone 6s and 6s Plus smartphones took the tech world by storm towards the end of the year. New features include the 3D Touch will brings more convenience to the user interface when touching choices on the screen. The 6s Plus is the larger counterpart which features a bit more in terms of resolution and the optical image stabilization which is helpful for shooting videos with shaky conditions.
Where to Buy:  Amazon.com, Best Buy, Walmart, Target
Apple Watch Sport (& others)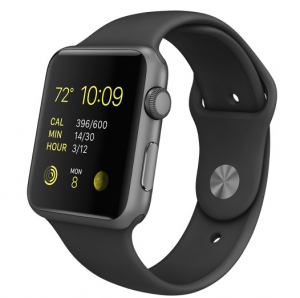 The Apple Watch is the wearable tech device that is perfect for Apple enthusiasts of all ages. This may seem like just a digital wrist watch at first, but it packs so much more inside the tiny device including many different apps. You can take and make phone calls using the device (when connected via Bluetooth to your compatible iPhone), check emails, send or receive text messages, listen to music, control your iPhone's camera feature to take pictures, monitor your health, get news updates and so much more. Prices start at $350 for the Sport Watch and move up based on the higher end models. A great gift item for any Apple fan!
Where to Buy: Amazon.com, BestBuy.com
Google Chromecast & Chromecast Audio

The Google Chromecast 2015 edition brings users the ability to watch streaming media through their hi-definition television monitors. Simply plug it in, connect with your wireless network and then enjoy various programs streamed right from your laptop or mobile device. The Chromecast Audio has a similar function, but works to stream audio to your stereo system or compatible speakers . Both items sell for $35 but may become priced lower as the holidays get closer.
Where to Buy: Best Buy or Walmart
Microsoft Surface Pro 4 & Surface Book

The Surface Book and Microsoft Surface Pro 4 devices are the latest answer by Microsoft to the Apple Macbook Air, and the concept of the tablet as a computer. These highly-functional new devices feature vivid touchscreen for "tap and touch" use, along with an interactive Surface Pen for stylus. You can use them for many tasks on the go thanks to powerful Intel Core processors, internal memory and internet connectivity. (Keyboard is sold separately for Surface Pro 4). Prices start at $899 for the devices.
Where to Buy: BestBuy.com
Microsoft Band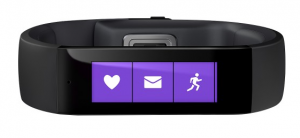 The Microsoft Band is the latest innovation in wearable technology which incorporates enough health monitoring features for the most sophisticated and dedicated fitness fans. Among the features are heart rate tracking, steps taken, calories burned and sleep quality. Not only that, it can help you with daily productivity with e-mail previews or calendar alerts right on your wrist. There's also the Cortana integrated assistant which responds to voice commands, gives recommendations and more. Prices start at $129.
Where to Buy: BestBuy.com
Amazon's $49 Fire Tablet
When it comes to buying someone an inexpensive-yet-useful tablet, the options were few. That was until Amazon announced news of a new $49 Fire tablet. While it's not an HD tablet like other higher priced models the web etailer sells, it still features enough functions and features for light tablet users. Plus it's only $50 making it a great low-priced gift go give someone who needs a tablet for around the house, travel and more!
Where to Buy: Amazon.com
Top Tech Gift Items for the Holidays