Are you a recent Amazon Fire TV owner looking to get better understanding with your device? Need a guide that helps you with setup, settings, apps, channels and all the inside details that help kick your entertainment up a notch? Bestselling author Shelby Johnson has released a guide book to help new and prospective owners of Amazon's new streaming media device with all the inside tips, tricks and helpful info! The brand new Amazon Fire TV User Manual is available exclusively at the Amazon website in digital ebook format and soon in print format. Here's more details on how this latest guide from TMS and Shelby can benefit you.
For a limited time, this guide is on sale for just 99 cents!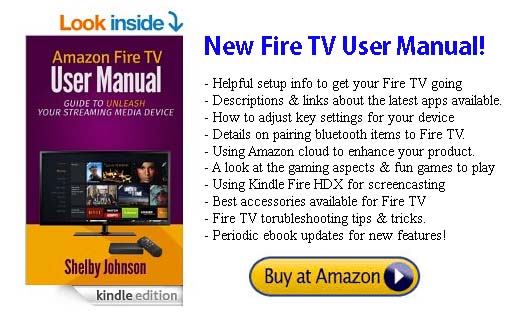 Here is what you'll learn about and find inside this helpful guide:
– Setup and overview of the Fire TV device
– Use of the remote and game controller
– Helpful descriptions of available content apps
– Descriptions of music apps for the device
– A selection of great games to play on your device
– Troubleshooting help for various Fire TV issues
– The latest accessories available for Fire TV
The digital book will also include periodic updates as this device receives new features or updates.
Shelby Johnson is a bestselling Kindle author who has helped thousands of technology owners to understand and operate their items. Her descriptive approach and step-by-step instructions have made tech devices that much easier to use on a daily basis.
Make sure to get this Amazon Fire TV user's guide if you already own the Amazon Fire TV or are considering it as an enhancement to your current entertainment system! It's low price won't last long, so don't miss out on this special!
Amazon Fire TV User Manual Guide