Fans of the Candy Crush Saga game can download a helpful game guide ebook to help them reach new levels!  There's tips, tricks, and even cheats to help you on your way!
Want to learn how to play the Candy Crush game online on the Kindle Fire HD? It is frustrating that the app is not on the Kindle Fire HD isn't it? RAM Internet Media created this guide to help with step-by-step instructions!
There's also instructions to install the game on other devices as well, along with helpful strategies, tips and tricks you can use on the various levels as you go.  Important items are explained so you know what they do, as well.
With this awesome guide you can get Candy Crush Saga installed on your Kindle Fire HD in just minutes, and start playing the game on your tablet today!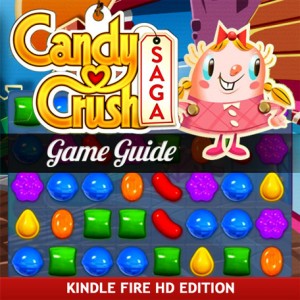 Candy Crush Game Guide Kindle Fire Edition by RAM Internet Media
The guide includes Candy Crush Saga tips and tricks to help you pass the over 375 levels.
In this guide you get:
Instructions for installing the game on Kindle Fire HD, iPhone, iPads, other Android devices and/or on Facebook.
Helpful tips, tricks, and some special cheats to help you beat your friends on the game, achieve the highest scores, and get to the highest levels.
Numerous screenshots to help you conquer this challenging game.
Information for passing some of the game's most difficult puzzles.
Additional resources for keeping up with the latest tips and tricks, as well as any new cheats discovered for the game.
Get Candy Crush Game Guide here at Amazon.com 
---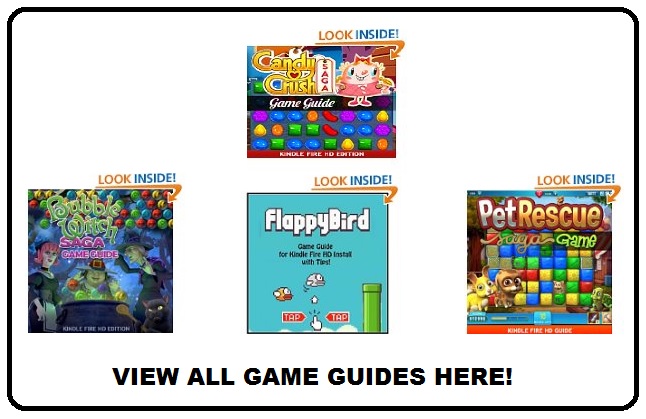 Candy Crush Saga Game Guide for Kindle Fire HD