For the price of just $39, you can now have the Amazon Fire TV Stick. The new device was announced on Monday, October 27th and is set to ship in late November. The price tag seems to provide a direct competitor to both Google Chromecast and the Roku Streaming Media Stick. Amazon is banking on taking it to these competitors to get more customers buying their various content, as well as that annual Prime membership.
The Fire TV was Amazon's first foray into the world of streaming media devices. It featured a special remote control with voice functions. The new Fire TV Stick allows for ordering the voice control remote for an additional $39.99. This is something Roku doesn't have associated with their device, with the exception of using a special Roku app on some tablets to control the Roku.
As a special deal for Prime Members, the new Fire TV stick costs just $19 for two days only, starting on Monday, Oct. 27th. There's a limit of two per customer right now. You can view the Fire TV stick here at Amazon.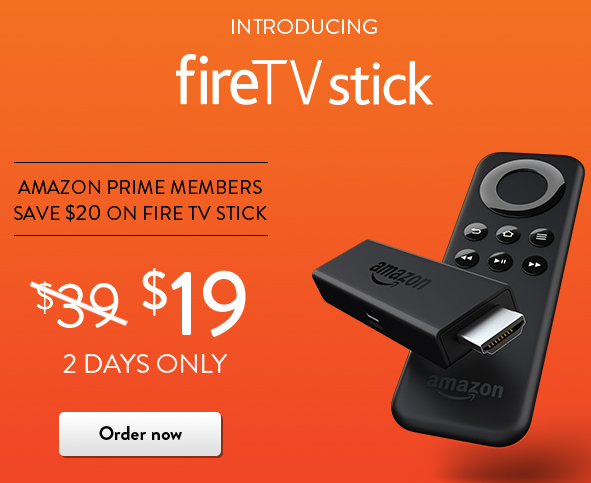 Amazon already has the Fire TV box top set available on the market for $84, and that's a price drop of about $15 from its initial price. The new Fire Stick looks a lot like both of those devices and includes a remote control, just like the Roku streaming media stick does.
The e-tailer recently reported troubling numbers on their Fire Phone, the first-ever smartphone by the company. They've indicated they have taken a major loss on the product and have even reduced the price as low as .99 cents with a 2-year contract signup. However, Amazon notes they have a lot of back stock on the Fire Phone still.
With Fire TV, customers get access to channels which Amazon refers to as "apps." These include everything from Hulu Plus, Netflix, WWE Network, WatchESPN and even games. A special gaming remote can also be purchased for the set top box. There are some games that can be played only using the remote itself too.
The Fire Stick may catch on a bit more, as the holiday season approaches. This gives customers a reasonably-priced streaming media device they can put in stockings or under the tree, or even have it set up with the TV when the holidays arrive!
What do you think, is the new Amazon Fire TV stick for you, or will it make a good holiday gift?
Update: Amazon announced an official release date of Nov. 19th. Delivery date for the Fire TV Stick was listed as approximately Dec. 9 on the order as of 10/27/14.
New Amazon Fire TV stick unveiled
Tech TiPS, TRICKS & NEWS!
Receive important and helpful updates from our site. Your email address will never be shared