With the holidays approaching, don't be surprised to see a Black Friday 2013 deal for the Kindle Fire HD tablets or HDX. To be perfectly honest, this may be the best time to get your hands on one of the older Kindle Fire HD tablets that are now priced lower with the arrival of newer models on Amazon.
There are a number of new Kindle Fires on the market today, making the original model defunct for the most part. Right now you can purchase the Kindle Fire HD, the Fire HDX model, and finally the Fire HDX model 8.9. All of these perform nearly the same functions with a few minor differences between them.  They will certainly make great gadget gifts for those techies on your shopping lists too.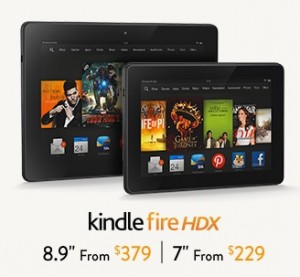 View Amazon Kindle Fire HD deals here
Kindle Fire HD — Provides Webcam/Skype support with full tablet functionality. Send E-Mail, use social media, download games, and much more!
Kindle Fire HDX/HDX 8.9 — All the same features as the Kindle Fire HD, but also features a MayDay button which allows users to get help wherever they happen to be. In addition to that, the HDX actually features a 4G option, allowing you to stay productive even on the go. Unlike some other tablet providers, the 4G option can be used with two providers rather than just one. When you purchase your tablet, you can decide whether to use Verizon or AT&T. It all depends on your personal preferences as well as the network availability in your area.
The new tablet itself has plenty of different options, and you can easily customize it for your needs upon purchase. Once you have designed the perfect Kindle, you will be able to purchase it and enjoy it for many years to come.
Once Black Friday goes into effect you will find that the cost of the Kindle Fire goes down significantly. As you probably know, many prices, during Black Friday, will actually be lowered by 50% or more, making the Black Friday price of the Kindle affordable to virtually anyone that can find it, assuming they are able to beat the crowds.
You have a choice when looking for Black Friday 2013 Kindle HD possible sales deals. For example you could buy online, or you could buy in a store. There are a few physical retailers out there that still carry the Kindle Fire, even though Target has opted out. Staples, among others still carries the Kindle Fire, making it a prime target for shoppers on Black Friday, including you.
When you are buying online you will face many of the same problems that physical Black Friday shoppers face. For example, there will be a dwindling stock, though if you are able to get in early, you will find that buying your Black Friday items are as easy as clicking the 'buy' button. Remember, once it is in your cart, it is reserved for you — at least as long as the sale lasts.
The Kindle Fire HD is without a doubt one of the greatest innovations of our time, and you can easily get your hands on one this coming Black Friday. The Black Friday 2013 shopping day is set to take place on November 29th, 2013, so stay tuned for any online cyber deals as they arrive at Amazon or elsewhere!
Black Friday 2013 Kindle Fire HD Deals & Sales Info
Tech TiPS, TRICKS & NEWS!
Receive important and helpful updates from our site. Your email address will never be shared