A new device has been revealed called the Amazon Echo from the e-tailer which also introduced the Fire Phone to lower than expected fanfare. The latest device, seen today at Amazon.com, is available for purchase by invite only at this point and is offered at a reduced price for Prime members. It is apparently a smart device hub that you can set up to work from the cloud that will provide information, news, music, weather and more.
The device has a price of $199 for non-Prime members, while it's reduced by $100 for Prime members to $99. To have a chance to buy one, sign up here. It's unknown what the official release date for the device might be as of this initial report.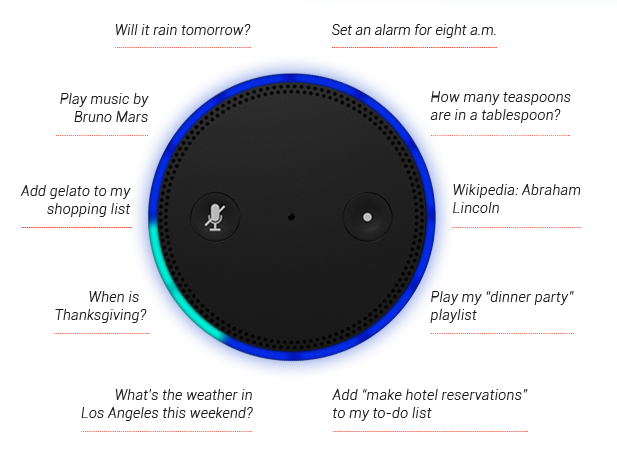 Among the features touted for this surprise device that Amazon has revealed are that it can respond to voice commands and questions. For example, you can tell it to set an alarm for a certain time in the morning, or you can ask it to play a playlist from your Amazon music in the cloud. Add items to your shopping list, find out the latest weather somewhere or get an answer to that burning question you have such as "How many teaspoons are in a tablespoon?"
According to the site, the more you use the new Echo, the smarter it will get. It will adapt to speech patterns, vocabulary and personal preferences. The device features seven built in microphones, a light ring, enhanced noise cancellation and integration through the Amazon Echo app to work with Fire OS devices such as Fire Phone and Fire tablets. It's also bluetooth-enabled with "Fast wi-fi" and easy set up on your home network.
The latest device looks to capitalize on the trend of "hands free" use of services, something which they have tried to integrate with eliminating typing on their Fire TV devices. Instead, you can speak into the remote to find what you want to watch or listen to. The Echo may also integrate into an overall setup of devices from Amazon around the house including the phone, the Kindles and the Fire TV, but that has yet to be revealed.
It also appears Amazon might be playing it smart to test the device on the market rather than expecting it to be embraced and popular. That may explain the limited availability based on request and invite.
Tech fans, what do you think of the latest gizmo from Amazon? Is it more hooplah and hype like the Fire Phone, or will it be able to catch on? What will Amazon invent next?
Amazon Echo revealed, available by invite only
Tech TiPS, TRICKS & NEWS!
Receive important and helpful updates from our site. Your email address will never be shared